On Thursday I received my field test version of the KPA500, Serial Number #15
It's the soon to be released 500W solid state linear amplifier from Elecraft covering the HF and 6m bands
This picture shows the KPA500 in the place where My ACOM1000 Normally goes, The ACOM just fits in this space.
This is my first experience with a solid state amplifier and I must say it's been smooth sailing so far.  it's certainly very nice to have an amplifier that has no 3 minute warm up period. Just switch on and it's ready to go. I have had a few hundred QSO's on it already and have not run into any issues so far
The amp is the same size as the K3 and uses an internal linear Power supply so it's quite a bit heaver than the K3, weighing in at around 13.5Kg (including shipping materials, see comments)
The amplifier is rated to develop 500W into loads that are 2:1 SWR or better, band switching is automatic, it simply senses the  RF and switches band as needed, this happens nearly instantaneously, before you have even completed the first 'dit' it has switched in the appropriate bandpass filters . The metering is very effective and compares reasonably well with my LP100 external power meter.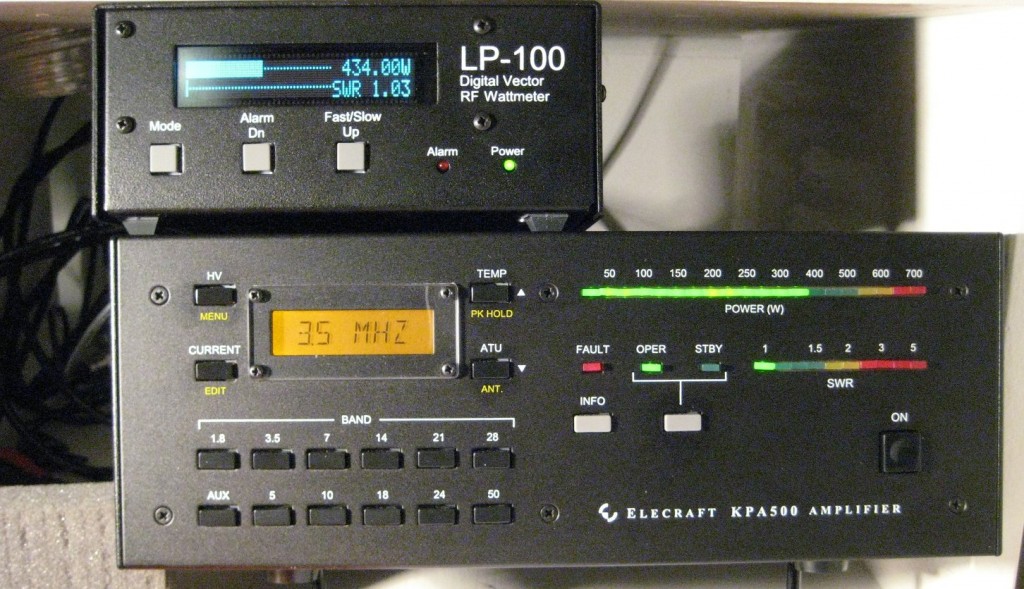 The amplifier produces the Irish legal limit of 400W out for around 20W drive
Hooking it up with the K3 requires  RF connections, Power (120 or 230V) and a PTT connection. No need to hook up ALC, if you overdrive the amp it will automatically switch in an attenuator and flash the fault LED  to protect it's self, if you persist in over driving the amp will take it's self off line.On the rear there are also an ALC input and RS232 for firmware updates. The metering is extensive, the LCD display can show various parameters such as the Heat-sink temperature, 'HV' voltage, PA current, SWR, Power and defaults to displaying the current operating band.
transmit/receive switching is with PIN diodes it's full QSK and silent, The internal fan comes on in 4 stages and is reasonably quiet, the slowest speed does not engage until the amp's heatsink warms up to 45 degrees C so for light duty operation and in standby or receive the amp is utterly silent.
Into a dummy load the KPA500 will generate up to 650W before it brings in the attenuator, a look at the spectral purity of the output on my SDR-14 software defined receiver shows a very clean output signal.
The KPA500 has sophisticated microprocessor controlled protection systems built in and is designed with very ample safety margins. Mechanically it is very well built and sturdy. Internally there are Transformer taps covering 100-120V and 200 to 240V.  This would be an ideal amplifier for Dxpeditions and IOTA activations.
It looks like my ACOM1000 may soon be for sale